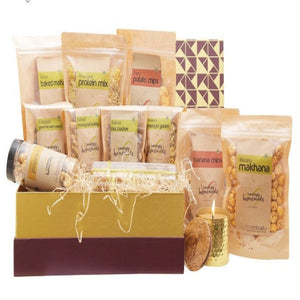 ROASTED PROTEIN MIX
BAKED MATHI
BAKED MOONG DAL TWISTY
CARAMEL POPCORN
ROASTED CHANA JOR GARAM
CHATPAT GOURMET AAM PAPAD
BAKED NUT CRACKER
ROASTED MAKHANA
BAKLAVA 4 pc
FIERY POTATO CHIPS
BANANA CHIPS
LUXURY CANDLE WITH LID
It's Healthy: Our Munchies are Vegan, Gluten Free, High Protein & Baked or Roasted, Not Fried!

No Preservatives: All Munchies are Freshly Prepared, Preservative Free & Made at Home in Small Batches.

100% Vegetarian: Our Munchies are Made with Love

Giftable: Our Munchies are Packed in Premium Craft Paper Pouches, bundled in a Premium Designer Craft Paper Box & Make for Great Gifts.