Celebrate milestones with our "Congratulations Gift Hamper," an assortment of nourishing treats and delectable snacks.
"Hot & Spicy Gift Hamper" - a fiery blend of zesty treats to ignite adventure for spice enthusiasts.
Celebration Made Easy with our Authentic Heat and Eat Awadhi food!

Same day delivery in Delhi NCR
Ready to eat delicious handmade dumplings to satisfy your instant cravings

Same day delivery in Delhi NCR
Testimonials
"The cookies, makhanas & granola were so delicious. My son especially loved the granola. Definitely gonna order again"

Shimpi
Thank you FoodCloud for the healthy snacks... Love the concept of the Home Chefs! 

Malaika Arora
Excellent experience with FoodCloud! Great quality products, competitive pricing and efficient delivery.

Air Canada
The Baklava Collection
Our collection of authentic premium baklavas are handcrafted by highly professional chefs and made using zero preservatives artificial coloring.
Explore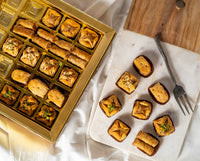 FoodCloud Wins!!
We won the National Start Up Award 2020 by The Government of India. This award goes beyond measuring our success in only financial gains but the overall impact created.

FoodCloud empowers enterprising women to become home entrepreneurs & serve delicious home cooked food & munchies!